SNAP-OUT
offers transparent on-demand document control and management through the standard MS-Windows print dialog box. When selecting File > Print, SNAP-OUT offers the added capability to:
on-demand to anyone, anywhere, anytime - both data and document for a complete and professional business transaction.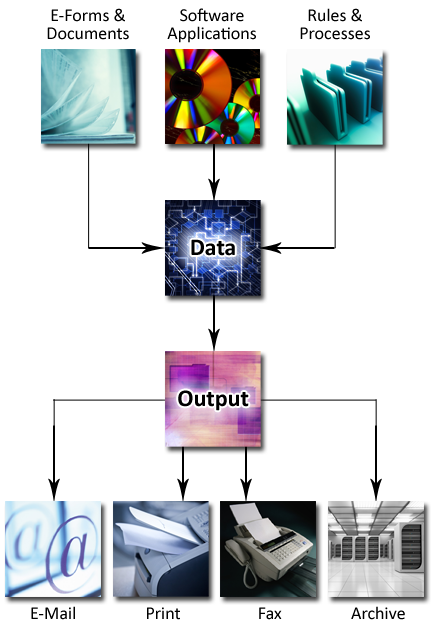 The SNAP-OUT printer driver captures data from the software application and routes the print stream to the SNAP-OUT server software where it processes the data from the print queue with the appropriate e-form/check/document and transforms the output into electronic format for distribution.
SNAP-OUT offers easier document control and management by:
Automatically exchanging and reliably extracting information across all software
Reducing redundancy - no need to enter information more than once
Eliminating the need to manually key information for different and various formats
Leveraging efficiencies of the Internet
SNAP-OUT also offers additional functionality:
Convert data to bar coded format
Connect with MS-Access and MS-SQL databases for table lookups
Change fonts for different types of data fields
Add MICR (Magnetic Ink Character Recognition) lines for encoded documents
Integrate with SNAP Retrofit laser printer devices for physical security and data encryption
And much more! Learn about SNAP-OUT here.