SNAP Retrofit memory resident devices are internal and/or external non-volatile, re-programmable devices that store electronic forms, checks, signatures, logos, fonts and graphics for secure, reliable and fast laser print output.
External devices contain easily removable cards that allow lock up for physical security. Internal devices plug in to a laser printer's font cartridge or standard memory expansion slot. If the device is not physically present, images such as checks and signatures will not print.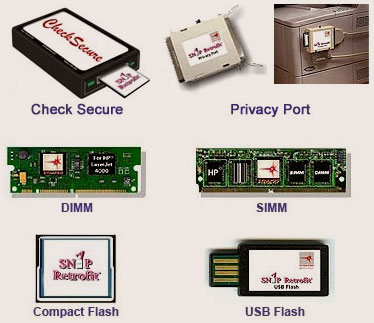 SNAP Retrofit devices are available in a "custom or personalized" manner. You can supply the resources to put on a device or they can be produced to your specifications by Synapsis' Forms Service Center. Synapsis continues to release new SNAP Retrofit devices which keep pace with the introduction of new laser printer families. Newer versions automatically configure to the IP address of the printer and support 10 and 100 Mbps, full and half duplex as well as versions that have built in bar code fonts.
SNAP Retrofit XML Processor
Synapsis' SNAP Retrofit XML Processor is our latest, yet easiest to install and best performance reporting technology. Designed to enhance Oracle's XML Publisher, SNAP Retrofit XML works with Oracle's E-Business Suite, JD Edwards EnterpriseOne and PeopleSoft's Enterprise applications as well as other applications not dependent on Oracle.
SNAP Retrofit XML Processor works with both downloadable and firmware based SNAP Retrofit print devices to provide the fastest production performance while keeping your print environment secure and compliant. It takes your regular XML output, reformats the data so it can be used with electronic forms and checks, and works with existing delivery managers to deliver the output to different destinations, such as fax and email, with the flexibility of delivering the same output to different destinations.
As part of Synapsis' superior customer service, specific files are provided to you that work specifically with your XML output data and either the electronic forms or checks can be created by you or Synapsis for use with SNAP Retrofit XML processor.