Synapsis electronic forms (e-forms) are much more than a structured document containing fields, columns and captions for the collection, storage and/or distribution of information. The forms - data - input - output cycle might be the same but that is where the difference ends.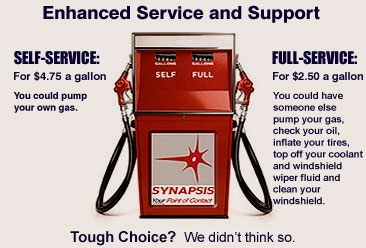 Synapsis e-forms are based on the open architecture, industry standard Adobe Portable Document Format (PDF) and deliverable in HP PCL, PDF and other formats. Synapsis e-forms can address print, workflow and web based applications, and are transparent for distribute, route, view and print procedures. Synapsis' proven and tested real world experience with large scale design meets true production performance capabilities.
Synapsis e-forms high fidelity, database centricity and compliance with standards such as web services with XML, provide electronic delivery presentation that streamline business processes that earn you money. Synapsis e-forms are simply the 10% that earns your business 100% or more.
SNAP Retrofit Processor
The Synapsis SNAP Retrofit processor is designed to enhance Oracle's XML Publisher. SNAP Retrofit XML works with Oracle's E-Business Suite, JD Edwards EnterpriseOne and PeopleSoft's Enterprise applications as well as other applications not dependent on Oracle.