is a business process software solution that allows you to electronically send relevant, database-driven promotional messages embedded in your everyday digital business transactions. It provides the ability to drive fully automated 1-to-1 cross-sell and up-sell messages in real time, based on customer purchase histories.
Active Advertising solves the problem of providing timely reactions to customer behavior and events, enabling companies to deliver the holy grail of marketing - relevance (the right message at the right time), and to think "outside-in" - from the perspective of the customer.
Active Advertising's relevant marketing messages are derived from your in-house customer profiles and historical purchasing data. Customers can be addressed based on purchase history, credit qualification, demographic, psychographic, and product affinity disposition.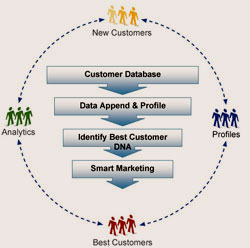 Active Advertising messages can be delivered in a variety of formats, such as simple text and graphics, animated graphics, hyperlinks to web pages, and streaming video. It propels e-forms as an additional communications "touch point" for customer relationships and retention.
Active Advertising increases the lifetime value of your customers, allowing you to fully automate the processes necessary to develop and maintain true customer relationship management.
NEW - Active Advertising Mobile reaches the ever-increasing mobile market using Active Advertising technology geared toward mobile users. With mobile technology becoming increasingly popular among all demographics, Active Advertising Mobile increases reach to include potential customers wherever they may be and whenever they access the Internet. Learn More.
We Make Business Life Simple®